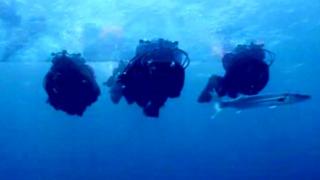 Record broken for living underwater
A team of ocean explorers has broken the record for the longest time spent living underwater.
Fabien Cousteau and two colleagues lived for 31 days in an underwater science lab off the coast of Florida in the USA.
The record was formerly set by Fabien's grandfather, the famous ocean explorer Jacques Cousteau.
The team were investigating the effects of climate change and pollution on a coral reef.
They're back on the surface now but Fabien says he'll miss seeing the sea life each day.
Ricky reports on the extraordinary achievement.
Watch more Newsround videos