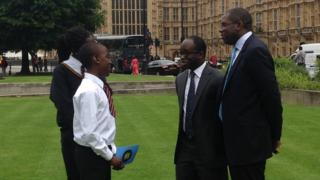 Why are there so few black MPs?
Some people worry that certain kids from a black background don't get the same chance to achieve as their classmates, when it comes to getting the top jobs.
One of the most important jobs out there is to be a politician, making decisions that affect the whole country.
But at the moment very few MPs in Parliament come from non-white backgrounds - just 4%.
We sent Mariama and Ronald to meet two top politicians - David Lammy from the Labour Party and Conservative MP Sam Gyimah - to find out more about the job and why so few people from ethnic minorities are in power.
Space scientist Maggie Aderin-Pocock told Ayshah that .
And Alesha Dixon also told Ayshah that she feels , regardless of their background.
Watch more Newsround videos