Defending champion Andy Murray has been knocked out of Wimbledon in straight sets by Bulgaria's Grigor Dimitrov.
The British number one lost the first set in just 24 minutes and never looked at ease throughout the match.
11th seed Dimitrov is playing the best tennis of his life and dominated Murray throughout, winning 6-1 7-6 (7-4) 6-2.
Andy struggled. Dimitrov controlled it. The second-set tie-break was crucial. Andy didn't play at his best today and so there's not too much to analyse
It's the second major upset at the tournament in less than 24 hours, after 19-year-old Nick Kyrgios knocked out Rafael Nadal on Tuesday.
Andy simply had no answer to Dimitrov's outstanding strokeplay and couldn't find the aggression that helped him to win Wimbledon last year.
Afterwards Andy said: "I felt fine in the warm-up but got off to a bad start, that was the disappointing part. It wasn't good enough.
"He played a very solid match, making few mistakes and a lot of returns. I just wish I'd made it tougher for him," he added.
Best Grand Slam performance yet
Bulgarian Dimitrov is into the semi-final of a Grand Slam event for the first time in his career, and will face number one seed Novak Djokovic on Friday for a place in the final.
He said afterwards he was "pretty fortunate" to win the match, and suggested Andy wasn't playing as well as he could early on in the match.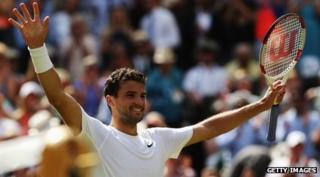 Getty Images
"As soon as we were warming up, I said his game wasn't at the highest level, while at the same time I felt confident," he said.
The two are good friends off the court and Grigor said "it's tough" to be playing a good friend in such a big match.