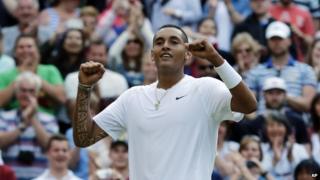 AP
Nick Kyrgios pulled off the biggest upset so far at Wimbledon by knocking out two-time champion Rafael Nadal 7-6 (7-5) 5-7 7-6 (7-5) 6-3.
The 19-year-old wild card moves into the quarter-final stage of a grand slam for the first time where he will face Canadian eighth seed Milos Raonic.
But what do we know about the Australian youngster?
Let's take a look...
Who is Nick Kyrgios?
Nick was born on 27 April 1995. His father, George, is Greek-Australian, while his mother Norlaila is Malaysian.
He grew up in the Australian capital city, Canberra.
World Ranking
Nick is currently ranked 144.
However, his terrific run to the quarter-finals at Wimbledon will see him break into the top 100 players in the world when the tournament is over.
What's his playing style?
Kyrgios likes to hit a tennis ball hard. Very hard.
His fastest serve at Wimbledon has been clocked at 133mph.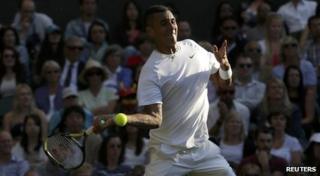 Reuters
Nick has smashed an amazing 113 aces so far during this year's tournament, which is more than any other player. He hit 37 aces past Nadal alone.
History at Wimbledon
Surprisingly, this is Kyrgios's first year playing at Wimbledon at senior level.
He did win the junior doubles championships though, in 2012 and 2013.
The future of tennis?
At 19 years and 70 days, Nick is the youngest player to reach the quarter-finals at Wimbledon since 2011.
He's also the first player born in the 1990s ever to beat Rafael Nadal.
Kyrgios is also the first teenager to beat a world number one at a Grand Slam tournament since 2005, when Nadal himself beat Roger Federer at the French Open.