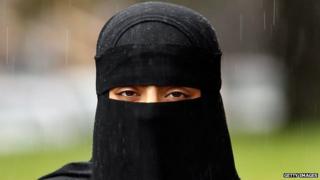 Getty Images
The European Court of Human Rights has upheld a ban by France on wearing the Muslim full-face veil - the niqab.
A 24-year-old French woman brought the case to court arguing that the ban on wearing the veil in public violated her freedom of religion and expression.
But the court said that the decision to keep the ban was based "solely on the fact that it concealed the face".
French law says nobody can wear clothing intended to conceal the face, in a public space.
The penalty for doing so can be a €150 fine (£120).
France was the first European country in modern times to ban public wearing of the full-face veil.
France has about five million Muslims - the largest Muslim minority in Western Europe - but it is thought only about 2,000 women wear full veils.