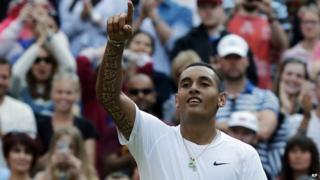 AP
Australian teenager Nick Kyrgios, ranked 144, has stunned the tennis world by knocking the world number one Rafael Nadal out of Wimbledon.
19-year-old Kyrgios has been tipped as one to watch but he admitted afterwards that even his own mother thought he had no chance against double Wimbledon champion Nadal.
"She thought he was too good," he said, "and that actually made me a bit angry."
This got us thinking: if he proved his mum wrong so spectacularly, have you ever done something similar?
Tell us if you've ever proved your parents wrong - what happened?
This chat page is now closed