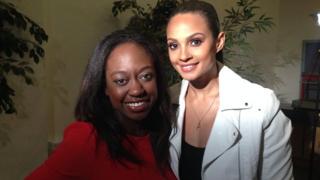 'Everyone should be able to succeed'
Singer and broadcaster Alesha Dixon and former England footballer Sol Campbell have told us they feel more needs to be done to help young black kids feel more included in Britain.
This week a survey commissioned by Newsround suggested that .
In the survey, two of the more popular job choices were footballer and actress. Black boys wanted to be footballers more than any other ethnic group.
Sol Campbell says that there are loads of successful black footballers and in football your background doesn't come into it.
Alesha Dixon started her career in the music industry before becoming a judge on Strictly Come Dancing. She told Ayshah she feels she was treated unfairly by some people in the media, because of how she looks.
Sol and Alesha say they want kids from all backgrounds to have role models they can look up to.
Earlier this week space scientist Maggie Aderin-Pocock told Ayshah that .
And Oscar-winning movie director Steve McQueen said that .
Watch more Newsround videos