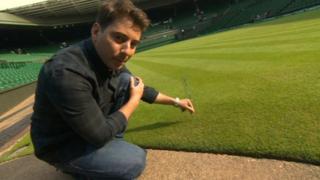 Who looks after Wimbledon's courts?
The All England Club is where the Wimbledon Championships are held every year, and it sits on thirteen acres of land.
There are 41 tennis courts and about 50,000 plants.
It's all down to one man and his team to maintain it to make sure it looks pristine throughout the tournament.
We sent Ricky down to meet the man behind the mower, Neil Stubley.
Watch more Newsround videos