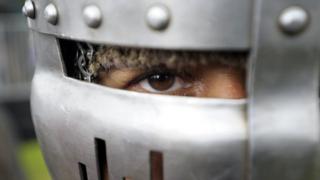 Bannockburn battle recreated
In September, the people of Scotland will vote to decide the country's future: whether Scotland should remain part of the UK or become independent.
It's an historic moment for the country but it's not the first time two sides have fought it out over Scotland's future.
Hundreds of years ago the Scots fought the English in the wars of Scottish independence.
One of the most famous clashes between the sides was the bloody battle of Bannockburn, and Martin's been to see it recreated on its 700th anniversary.
He speaks to Carrah, who's part of Generation 2014, a group of teenagers the BBC is following in the run-up to the referendum. As she'll be 16 by 18 September, she'll be able to take part in the vote.
Her younger step-sisters Aliana and Lauren will also be affected by what happens in the vote.
Watch more Newsround videos