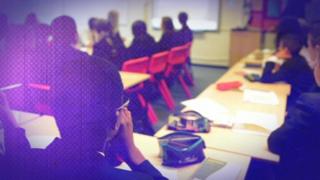 Newsround has commissioned a survey of 1,627 children aged 8-14, from all ethnic backgrounds, to find out about their aspirations and hopes for the future.
And we want to hear from you too.
Who inspires you? Is it someone famous or a member of your family? Or maybe a teacher or a friend you have.
What is it you admire about them?
This chat page is now closed but you can read a selection of your comments below.
Your comments
I got inspired by a program called Scratch to get into programming. I also got inspired by my teacher because she told me about computers and how amazing they were. Now I want to be a computer programmer when I'm older.
Angeline, England
I'm inspired by Eva Ibbotson as she is such a fantastic author and I would like to always do writing either as my career or on the side. I also look up to my teachers, as that's my main career focus, and people just don't realise how hard they work and how much energy is required to be one!
Libby, Bath, England
JK Rowling inspires me. She followed her heart and passion for writing even when she was as poor as you can possibly be without being homeless, a single mother and suffering from depression. How far she has got from that to today is a wonderful example of how all of us can achieve what we want, no matter what happens along the way and as long as we persist and stick at it!
Emily, St Albans, England
My massive inspiration would definitely be Rebecca Adlington. I am part of my local swimming club and love the sport!
Freya, Berkshire, England
I want to be a rollercoaster designer, and engineer, as I'm inspired by all the coasters I've been on. Also, I would feel a certain bit of proudness, if I had created something so big!
Oli, Charlbury, England
I was inspired by Brazil in the World Cup.
Josh, Gawthorp, England
John Barrowman inspires me because he showed me how to face my fears of performance.
Callum, Livingston, Scotland
Ellen MacArthur, because sailing around the world and starting a cancer trust is a big achievement.
Hannah, Surrey, England
I admire Beth Tweddle, I think she is a really good gymnast, and one day I would like to be a gymnast too!
Bethany, Scotland
My inspiration is Jamie Oliver. I really like his cooking and every day, I cook dinner for everyone, and now I am so good at cooking that I can cook my own stuff. My favourite is Coconut Curry Chicken, and when I am a chef I want to go to Paris.
Megan, Somerset, England
Will Smith inspires me because I want to be a comedienne when I'm older and I get some of the funny stuff from him. I also look up to him because I like the films he's in and I would also like to be in films like his.
Sapphire, Somerset, England
I admire Jack Wilshere because I think he is a really good footballer and he has scored lots of goals during the past month. He is a brilliant striker for England and I'm glad England has him in our team.
Joshua, Somerset, England
I admire Ellie Simmonds. She is my inspiration because she is super fast! She made me believe that if you really want something, you can get it if you try really hard because I did swimming and she made me want to really try hard at it.
Flora, Radstock, England
I would like to be a scientist when I grow up. So I can keep working towards better medicines and improved quality of life for everyone.
Kayla, Wellingborough, England
I am inspired to be a doctor because I really want to save people's lives.
Alia, London, England
The person that inspires me is Andy Murray, because he is a amazing tennis player and I always watch him play.
Fern, Watchet, England
The person who inspires me is my Mum. She is a baker, I love watching her decorating cakes and cupcakes.
Bareerah, Dewsbury, England
I am African and in the future I would love to become the CEO of a company like Microsoft so my biggest inspiration is Bill Gates.
Victor, London, England
Youtubers inspire me, and I think many people would agree! Zoe Sugg, Tanya Burr, Louise Pentland and much much more! I just love watching them after a bad day and they inspire me to be a better person.
Maisy, Guildford, England
David Attenborough is my inspiration because I wish to be a naturalist when I grow up as well.
Rosie, Chorley, England
Helen Skelton because she is incredible and always does things for charity and she always puts people before herself.
Kate, Telford, England
The two people who inspire me are Martin Luther King who gave an amazing speech and stood up for what is right. He was strong and led his protests in a peaceful way, hand in hand. My second person is Emmeline Pankhurst who stood up to defend women's rights and getting women in Britain their right to vote. They are both amazing people and I hope to make a change similar to theirs when I grow up.
Silvia, Oxford, England
The person who inspires me is Matt Smith who played the 11th Doctor because he has always entertained me and got me to like acting.
Byron, Kent, England
I am inspired by Jessica Ennis because she is a talented athlete.
Anisha, Stevenage, England
Paul Hollywood, Mary Berry and Jamie Oliver all inspire me because they're all successful bakers and cooks. One day I hope to follow their footsteps in owning my own business.
Paul, Glasgow, Scotland
I'm inspired by Jacqueline Wilson and JK Rowling because they are fantastic writers.
Lauren, Leeds, England
I definitely admire doctors. My dad's one and I want to become a surgeon myself.
Elizabeth, London, England