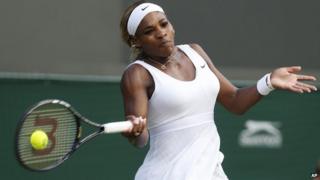 AP
Five-time Wimbledon champ, Serena Williams, is out of the tournament after losing against France's Alize Cornet.
It is only the third time in 15 visits to Wimbledon that Serena has crashed out at such an early stage.
Alize, ranked 24th in the world, won 1-6 6-3 6-4 and it's the second time she's beaten Serena this year.
Alize was delighted at her win. She said: "I just cannot believe it."
"Three years ago I couldn't play on grass, I was so bad, but now I have beaten Serena, the world number one."