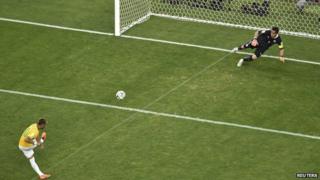 Reuters
Brazil secured a dramatic penalty shootout win against Chile to reach the World Cup quarter-finals.
The match between the two South American countries was one-all at the end of extra time, so the match went on to the first penalty shootout of the tournament.
Brazil's goalkeeper Julio Cesar was the hero, making two crucial spot-kick saves and helping his team win 3-2 on penalties.
The hosts will take on Colombia next.