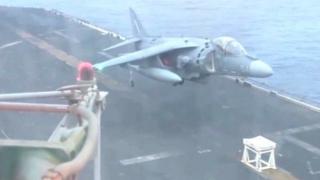 Pilot lands faulty jet on a stool
The US army has released video of a pilot landing his jet on a ship faultlessly, without full landing equipment, on 7 June.
When the front landing gear stopped working properly, he had to land the plane straight downwards, bringing the nose of the aircraft to rest on a special stool.
The crew of the ship had evacuated the landing deck in case the pilot didn't manage to land the plane safely.
Watch Jenny's report as she explains what happened...
Watch more Newsround videos