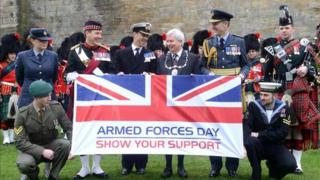 Armed Forces Day celebrations begin
The sacrifices made by Britain's service personnel are being honoured today on the sixth annual Armed Forces Day.
One of the biggest events is taking place in Stirling where Prime Minister David Cameron and Scotland's first minister, Alex Salmond, will join thousands of people to watch a special parade from the city's castle.
Watch the clip and see soldiers, who are currently serving in Afghanistan, say what they'd want as an Armed Forces Day treat...
Watch more Newsround videos