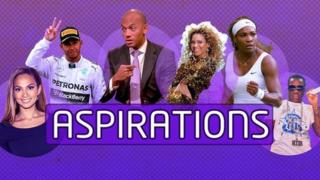 Newsround's survey of kids' aspirations
Newsround has commissioned a survey of 1627 children aged 8-14, from all ethnic backgrounds, to find out about their aspirations and hopes for the future.
For a long time, there's been concern that some black children have struggled to do as well in exams as other kids.
Currently black children still score lower than other ethnic groups at GCSEs and politicians have spoken about the need to give more opportunities to young black people.
However, latest GCSE figures from the Department of Education shows that the gap is closing between black students and other ethnic groups.
One in five black children think their skin colour will make it harder to achieve in the future, the highest proportion of any ethnic group to feel this way.
Children from a black background were more likely to say they wanted to be footballers and rappers when they're older.
They were less likely to want to be doctors and scientists when compared with children from other backgrounds.
Black children are also the most concerned about how teachers view them and less likely to feel their teachers would describe them as clever.
Watch more Newsround videos