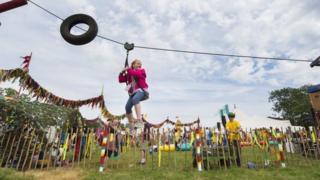 Glastonbury festival gets underway
Some of the biggest names in music including Ellie Goulding, Lily Allen and Rudimental will play at Glastonbury this weekend.
It's based in Somerset and is the biggest greenfield music festival in the world, with 175 thousand people expected this weekend.
Lots of children go along with their families with a special kid zone designed for them to play in.
Radio 1's entertainment reporter Natalie Jamieson is at Glastonbury and sent us a report about what's going on at the festival.
Watch more Newsround videos