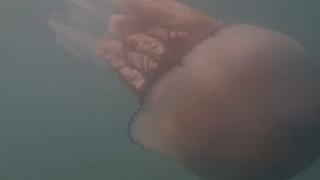 Giant barrel jellyfish in Cornwall
A giant barrel jellyfish has been spotted swimming in an estuary in Cornwall.
Matt Slater of the Cornwall Wildlife Trust swam around the jellyfish to capture this video - which also shows his dog paddling nearby!
The jellyfish is said to weigh as much as 20kg and measure around a metre across.
Watch more Newsround videos