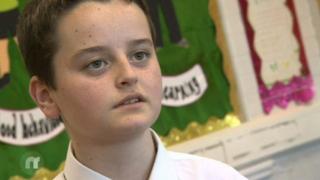 Liverpool fans on Suarez ban
Children from a local Liverpool school gave their views on Luis Suarez's four month ban from football.
It means the Uruguayan striker won't be able to play for his country - or club Liverpool - for four months.
He's also banned for nine World Cup matches and has been ordered to pay a fine of 100,000 Swiss Francs (£65,000).
Suarez can appeal against the ban but he won't be able to play in Uruguay's clash with Colombia on Saturday.
We asked some local children from a school in Liverpool on what they thought about the ban.
Watch more Newsround videos