Luis Suarez has been banned from all football for four months, after Fifa decided that he bit Italy's Giorgio Chiellini during a World Cup game.
It means the Uruguayan striker won't be able to play for his country - or club Liverpool - for four months.
He's also banned for nine World Cup matches and has been ordered to pay a fine of 100,000 Swiss Francs (£65,000).
Suarez can appeal against the ban but he won't be able to play in Uruguay's clash with Colombia on Saturday.
No football for four months
The four-month ban means he can't take part in any football-related activity - even go into stadiums - during that time.
It also means he'll miss the first nine games of the Premier League season.
The nine-match ban means he'll miss Uruguay's next nine World Cup matches, ruling him out of the rest of the 2014 tournament.
It's the longest ban Fifa's ever handed out at a World Cup, beating the eight-match ban given to Italy's Mauro Tassotti in 1994.
Suarez clashed with Italy defender Giorgio Chiellini during Tuesday's Group D game between Italy and Uruguay.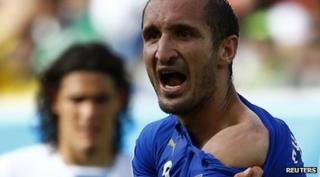 Reuters
Chiellini claimed Suarez bit him on the left shoulder, but Suarez said the defender "bumped" into him.
Tuesday's match ended in a 1-0 victory to Uruguay, sending them through to the last 16 and knocking out Italy.
Suarez's track record
This isn't the first time Suarez has got into trouble for something like this.
The Liverpool striker was given a 10-match ban by the FA last year for biting Chelsea's Branislav Ivanovic.
In 2010 he was banned for seven games when he was at Dutch side Ajax after biting PSV Eindhoven midfielder Otman Bakkal's shoulder during a match.