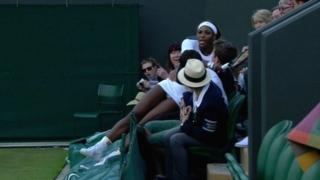 Serena Williams falls into fan during match
Serena Williams ran out of space during her double's match on Wednesday and fell into the lap of a spectator.
Serena was playing with her sister Venus in their first round match against Olga Kalashnikova and Oksana Savchuk on court three.
The world number one laughed off her fall and got back up to carry on with the game, which they won 5-7, 6-1, 6-4.
Watch more Newsround videos