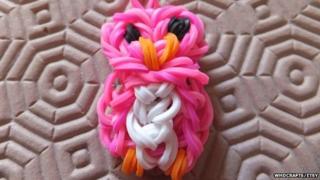 WHDCRAFTS/ETSY
Who knew that some little coloured rubber bands could capture the imagination of so many of you?
Loom band fans around the world are spending hours weaving all sorts of things - from bracelets to skipping ropes to animal shapes.
One US chat show host even wore a suit jacket made from loom bands.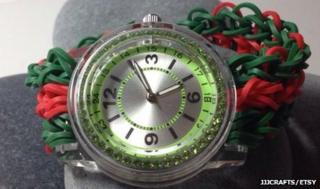 JJJCRAFTS/ETSY
Chat: What's so fun about loom bands?
The Newsround team wants photos of what you've made with loom bands - show us how creative you've been!
Catch Newsround on Thursday morning from 7.40am where Ricky will have a special report into the loom band phenomenon.
Email your picture to newsroundpix@bbc.co.uk along with your name, your home town and a contact number for your parent or guardian.
You must ask your parent, teacher or guardian for permission before you send us a picture.
We may show your picture on our website or in our bulletins on the CBBC channel. We'll show your first name and which town you're from - but we won't use your details for anything else.
This isn't a competition and there's no prize, it's just for fun - but who knows, your creation might make it onto our website or TV bulletins!