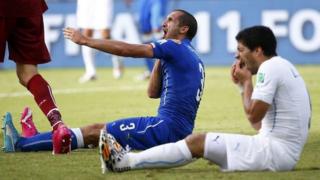 Fifa investigate Luis Suarez 'bite'
Fifa, the people in charge of world football, have opened an investigation after Luis Suarez appeared to bite another player during a World Cup game.
Suarez clashed with Italy defender Giorgio Chiellini during Tuesday's Group D game between Italy and Uruguay.
The referee took no action at the time, but Fifa could give him a ban of up to 24 matches or two years.
Suarez and Uruguayan Football Association have until 5pm Brazil time on Wednesday to respond.
Tuesday's match ended in a 1-0 victory to Uruguay, sending them through to the last 16 and knocking out Italy.
This isn't the first time Suarez has got into trouble for something like this.
The Liverpool striker was given .
In 2010 he was banned for seven games when he was at Dutch side Ajax after biting PSV Eindhoven midfielder Otman Bakkal's shoulder during a match.
Watch more Newsround videos