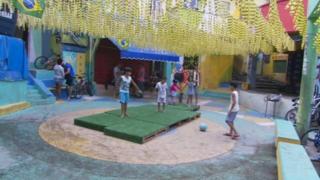 The rich and poor neighbourhoods of Rio
Raphael is 13-years-old and has lived in Doña Marta favela in Rio de Janeiro his whole life.
Favelas are poorer areas of housing in Brazil built on the edge of big cities.
But not too far from the favela where Raphael lives is a richer neighbourhood, home to Julia, who lives a very different life where debutante parties with DJ's and performers are all part of growing up.
Leah has spent time with Raphael and Julia to see how different their lives are, living in the same city.