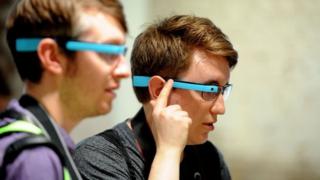 Google Glass goes on sale in UK
Google have released their wearable technology device, Glass, in the UK.
The device, which is still a prototype at the moment, costs £1,000 and you have to be over 18 to buy it.
Glass lets you film stuff and check the internet on the move, with a built-in camera and microphone to record photos, video and sounds.
Google says Glass is a hands-free, quick alternative to smartphones - but some people are concerned about privacy and that using Glass while driving would be unsafe.
Check out the video to watch Ayshah chatting to tech expert Mar Dixon.
Watch more Newsround videos