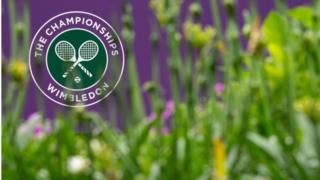 PA Media
Wimbledon is back after missing a year in 2020 because of the coronavirus pandemic.
Serbia's Novak Djokovic, who won the men's title in 2019, is the favourite to win again. If he does, it would be a record-equalling 20th Grand Slam men's singles title.
Romania's Simona Halep, who lifted the women's trophy in 2019, pulled out on Friday with a calf injury.
British player Andy Murray is back on form and playing again this year. He has not competed in the singles at the tournament since 2017 because of a series of injuries.
British female number one Johanna Konta won't be able to play this year because she has been in close contact with someone with coronavirus so has to isolate for 10 days.
It is one of the most famous and important tennis tournaments in the world.
The first Championships took place in 1877 at the All England Club in London, where it's still held today.
Wimbledon takes place over two weeks and it's the only major championship still played on grass.
Read below for our quick guide to the tournament, which starts this year on Monday 28 June.

There are 128 places available in the draw for both men and women. Out of these 32 are ranked - or seeded as it's known - for the purposes of a draw.
These seeded players are seen as the best players in the draw and they're kept apart so that they don't meet until later in the competition.
In addition there are up to eight wild cards - players who are given a chance to play even though their world rankings are low - and several qualifiers.

The match is divided up into sets. In men's tennis you have to get three sets to win. For women it's two.
To win a set you have to win six games - but you also have to get two more games than your opponent.
So you can take the set 6-4, but not 6-5. In that case, you'd continue until someone won 7-5.
If you get to 6-6 first, you play a tiebreak. The first person to get to seven points or more by two clear points wins the tiebreak and the set.
To win a game you need to win four points. But rather than going up from one to four they go in this order: fifteen, thirty, forty, game.
If you are tied on forty-all this is called deuce, and then you have to win by two clear points.
But there will not be any more marathon matches because a tie-break in the final set was introduced at Wimbledon in 2019.

The first Ladies' Championship was held in 1884, before that women weren't allowed to take part in Wimbledon.
Since 2007 women have been given the same amount of prize money as men.
Now, the only division between men's and women's tennis is the number of sets they have to get to win.
Seeds - The people expected to do well in a tournament.
Set - The main sections of a tennis match (see how to score, above).
Straight sets - When someone wins a match without losing a set, e.g. winning three sets to love.
Love - A tennis word for zero.
Forehand - When you hit with the palm of your hand facing to the front.
Backhand - A shot with the back of your hand facing front.
Deuce - This is another way of saying forty-all. It comes from the French word "deux", meaning two, when two people are on the same point.
Baseline - This is the line at the far end of the court.
Cyclops - The machine that goes beep to tell if the ball has hit the net on a serve (which means the serve has to be taken again).
Serve - When the player hits the ball over the net to start the game.
Let - Play the point again.
Tiebreak - When the set is drawn at six-all (see how to score, above).
Ace - When a player wins a point after serving an unstoppable shot.
Smash - A very fast shot hit by a player.
Volley - Hitting the ball before it bounces.
Double fault - Serving twice out of the court and losing the point.
Umpire - The person who decides, like a referee.
Spin - Hitting the ball so it spins and bounces so it's hard for the other player to hit (as in 'top spin', 'back spin').