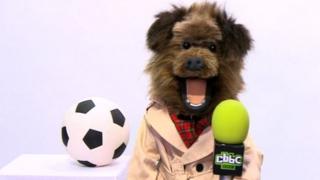 This Sunday Hacker T Dog will be hosting his live alternative World Cup commentary during the Belgium v Russia game.
Hacker will be joined by Cel and a host of other CBBC voices, sharing their thoughts on the game and the World Cup in general.
Cel is in the CBBC studio alongside Hacker, live from Sunny Salford - none of this Rio de Janeiro business.
Hacker knows nothing about football so expect random chat about how nice the grass looks, Wigan and meat paste.
You'll be able to get involved too, with a message board online and a phone-in.
And if that wasn't enough, listen out for Newsround's Leah who'll be joining in the commentary, live from Brazil!
Press your Red Button from 5pm on Sunday on BBC One to unleash the chaos.