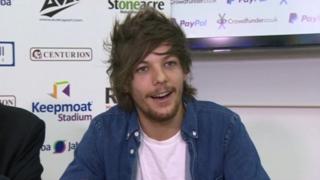 1D's Louis on Doncaster takeover
One Direction star Louis Tomlinson has been talking about his takeover of Doncaster Rovers football club.
It's been confirmed that the 1D singer is jointly buying the club with businessman John Ryan, who's a former chairman of the League One side.
Louis was born in Doncaster and is a lifelong Rovers fan. He played for the club's reserve side earlier this year.
Louis said: "I'm willing to put a lot of time in... It's such a big passion and I want to hopefully make a difference."
He also said he wants to give young people in Doncaster an opportunity.
Watch Louis speaking to journalists on Thursday.
Watch more Newsround videos