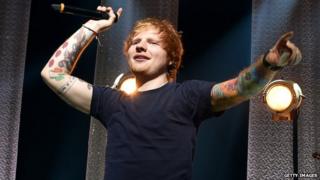 Getty Images
Music fans, listen up - we want your questions to ask the popular singer/songwriter Ed Sheeran.
Ed is releasing his second album, x, this month, and he's just scored his first ever number one single with his Pharrell Williams collaboration, Sing.
He hit the big time three years ago with his debut album, +. It helped him win two Brit Awards in 2012 - best male solo artist and best breakthrough act.
Newsround is talking to Ed on Tuesday and you've sent us your questions.
This chat page is now closed. You can read some of the questions that have been sent in below. We'll try and ask Ed as many as possible but we can't promise all your questions will be asked!
Your questions
When you were in America, who did you work with and who did you get the most inspiration from?
Naomi, Bushey, England
Were any of your songs written to symbolise your childhood?
Chloe, Kent, England
What inspired you to make the song 'Don't'?
Rosie, Wakefield, England
How do you feel about the way people interpret your songs?
Sky, Chicago, USA
What job do you think you would be doing now if you didn't have your music career?
Gina, Devon, England
If you were to give someone advice on life or how to start songwriting, what would you say?
Georgia, Walsall, England
Why did you use a puppet in your new video?
Charlie, Edinburgh, Scotland
Are you into football? If so, who do you support?
Katie, Maltby, England
What has been your most enjoyable song to write? Why?
Class B5, Bristol, England
My favourite song is 'Give Me Love' but what is your favourite song to play?
Felicity, Liverpool, England
Do you have a pet? If so, what is his/her name?
Flora, Farnham, England
Do you like all your songs?
Ella, Pickering, England
Have you ever considered joining a band or have you always wanted to be solo?
Lauren, Devon, England
Who would you say is your inspiration for your love of music, and why? How long does it normally take you to write a song?
Leah, Northampton, England
How did you feel when your hit single 'Sing' reached number one in the UK?
Beryl, Sheffield, England
How old were you when you wrote your first song and what was it about?
Jose, Perth, Scotland
Where is your favourite place to tour and who have you enjoyed touring with?
Alice, London, England
I love all your songs, my current favourite being 'All of the Stars'. I was wondering, what is your motivation and muse to write songs?
Emerald, Sittingbourne, England
What is your favourite song on your album and what inspired its title?
Shaaumiga, Birmingham, England
What is your favourite song that isn't your own?
Zara, Northwich, England