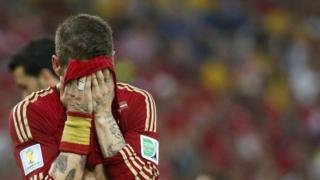 Reuters
Reigning champions Spain suffered a 2-0 defeat at the hands of Chile.
After losing their first game against the Netherlands they now have no chance of getting out of the group stages.
They made history as one of only five defending champions to have not made it through.
Having won the Euros in 08, World Cup in 2010 and Euros again in 2012, Spain has conceded more goals this World Cup than in the three previous tournaments combined.
The coach of six years, Vicenti Del Bosque, said there will be consequences for the structure of the Spanish team and hinted that his time may be coming to an end.