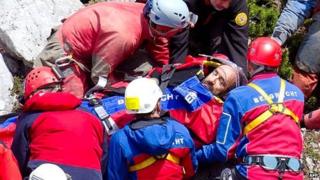 AFP
A cave explorer has been rescued after 12 days trapped inside Germany's deepest cave.
Johann Westhauser was badly hurt by a rockfall on 8 June while exploring the cave 1,000 metres underground.
He was pulled out by rope on his special stretcher on Thursday and flown to hospital by helicopter.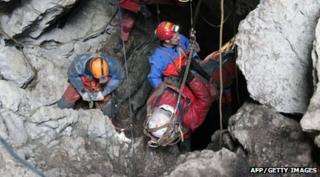 AFP/getty images
He said on Friday: "I feel all right, I am content. I have problems with my speech, but I am sure that will level itself out.
"It just takes some time to recover from that whole operation.
"I want to heartily thank all comrades who took part in the cave rescue. It was a great operation."
The cave is now going to be closed off to stop other people from going inside, as officials think it's too dangerous.
Huge rescue effort
More than 700 people from five countries have been involved in the rescue.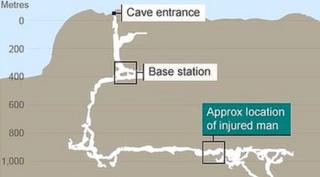 It was a really difficult rescue because of all the narrow passages and tight gaps in the cave.
Mr Westhauser was one of the explorers who discovered the cave, named Riesending, back in 1995.