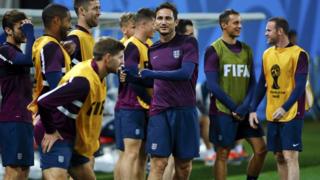 Reuters
Tonight it's England's must-win World Cup match against Uruguay - and we want to know whether you think the team will win.
England lost their first match 2-1 against Italy, do you think they can beat Uruguay this evening?
What are your score predictions for the match?
Which players are you looking forward to watching and why?
Tell us what you think using the form at the bottom of the page.
We've asked some football fans in Manchester what they think.
And here's former England player Rio Ferdinand's view.
Your comments
2-0 to England if Suarez does not play. If he does, it might be a draw.
Shane, London, England
England have a good team and they still have a chance so I'm not losing hope.
Chinara, Sheffield, England
After watching Newsround this morning our class (Sycamores) had a vote and here are the results! win: 10 draw: 6 lose: 3.
Jenny, Shipley, England
I think (and hope) that England will win tonight because we have Raheem Sterling and the rest, of course!
Raheem, England
This is going to be truly a terrible game for England, Uruguay has a good chance judging by England's last game against Italy.
James, England
I think Uruguay will struggle but England will just slip in a goal and make it 2-1.
Bilal, Slough, England
I think England will struggle but play well, but I think Uruguay are still going to win 3-2. Good luck England.
Muhaysin, Slough, England
England are going to win 5-0 and Daniel Sturridge is going to score goal number 3.
Mahad, Sheffield
Uruguay is going to win no matter what!
Rubert, Uruguay
I think England are going to draw 2-2 I'm scared of Luis Suarez even thought I support Liverpool.
Logan, Sheffield, England
England have got a good chance against Uruguay, they didn't play so well in the first game but they do have a good chance this game.
Ben, Scunthorpe, England
England is going to win hats off 4 - 2 bang on, or more, go England!
Michael, Wigan, England
I think they could win but it will be close.
Ellie, Retford, England
England will win 3-1.
Brandon, Wigan, England
I think England are going win with Rooney back up front but Uruguay has a good chance as well.
Amy, Bolton, England