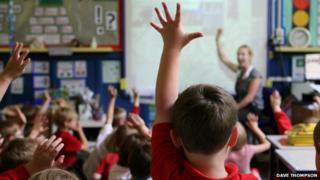 Dave Thompson
A new report by a group of MPs says that white children from poorer backgrounds don't do as well in school as poor children from other ethnic groups.
But they do say that good schools and good teachers can make a huge difference in helping children from less wealthy homes perform better.
The minister leading the report, Graham Stuart, said poor white British children "do less homework and are more likely to miss school than other groups".
The ministers say it isn't clear whether this is because of bad attitudes towards school, a lack of drive to study, or poor parenting.
The report looked at the performance of children from poorer backgrounds who are eligible for free school meals.
Great schools make a big difference
What is certain, say the ministers, is that great schools do make a big difference in turning poor children's education around.
The committee wants the government to help make sure the best teachers to the schools that need them most; and to do more work to understand why the problem is happening.
It also wants the schools inspector Ofsted to keep its attention focused on the poorest white children and give more advice for schools on how to tackle the problem.