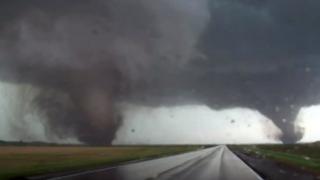 Twin tornadoes strike in the US
In a very rare event, twin tornadoes have struck the US state of Nebraska causing huge amounts of damage.
At least one person has been killed and 19 injured when two massive tornadoes hit the US state.
The town of Pilger in the north-west was particularly badly affected.
And it's not over yet… watch Jenny's report.
If you're upset by anything you read in the news click here for advice.
Pictures courtesy of StormChasingVideo
Watch more Newsround videos