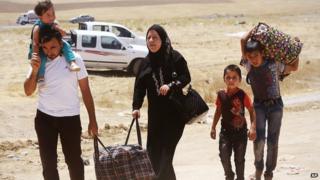 AP
The violence in the middle eastern country of Iraq is getting worse as fighting moves closer to the capital city Baghdad.
In the past week fighters for the Sunni militant group Isis, who oppose Iraq's Shia government, have taken over a number of Iraqi towns and cities.
Hundreds of thousands of Iraqis have left their homes to flee the fighting.
Officials in Iraq now say they're worried the country is in danger of falling apart.
The governments of America and the UK are trying to work out what can be done to stop the situation getting worse.
America's government says it's sending up to 275 military personnel to Iraq to provide security for the US embassy in the capital, Baghdad.
They'll help move staff away from the embassy for the time being, to protect them from the increasing violence.
This isn't the first time that Iraq has been in the global headlines.
Iraq's troubled history
In 2003 the UK government decided to send British troops to the country as part of a US-led invasion.
But what was meant to be a quick operation turned into a war lasting years, which cost thousands of lives.
If you're upset by anything you read in the news click here for advice.