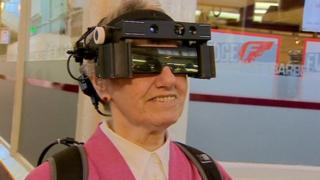 New 'smart' glasses in development
Scientists at Oxford University have designed new smart glasses to help around 2 million people in the UK who have serious sight problems.
The specs are still in development, so they aren't available to buy just yet, but the technology helps patients to see their surroundings.
The organisation representing blind people, the RNIB, says the technology could make a real difference in the future.
The glasses work by using 3D cameras and a computer to project images on to the lenses of the glasses showing the outline of things which are nearby.
Watch Martin's report to find out more.
Watch more Newsround videos