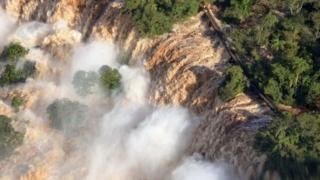 Iguazu waterfall records biggest flow
Torrential rainfall in recent days has caused widespread flooding in Brazil, Argentina and Paraguay.
The famous Iguazu Falls on the border between Argentina and Brazil, rose to historic levels causing the biggest recorded water flow over the falls.
Elsewhere, one of the World Cup's host cities in Brazil, Natal, has declared a flood alert.
Two days of near-continuous rain have left the city, on the east coast of Brazil, facing severe flooding.
USA will face Ghana there on Monday evening, and the match should not be affected, but more rain is forecast.
Watch more Newsround videos