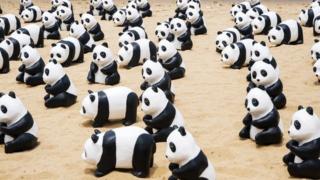 Hundreds of pandas on display
A massive collection of 1,600 paper giant pandas have gone on display in Hong Kong, China.
The artist who created them made exactly 1,600 paper pandas to mark the number of wild giant pandas that there are in the world.
He hopes to encourage people to do more to protect wild animals as well as the environment.
Try Newsround's Panda quiz.
Watch more Newsround videos