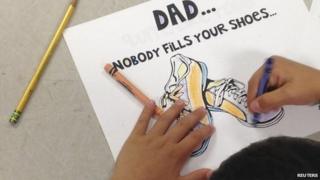 Reuters
It's Father's Day today and we want to know what makes your dad special.
Are you doing something to celebrate? Have you made a present or are helping around the house?
Perhaps you're doing something for your granddad too?
Get typing and send in your comments!
Thank you for sending us your comments. This chat page is now closed.
Your Comments
What makes my dad special is that he never disappoints me and he spoils a lot.
Gary, Kent, England
What makes my stepdad special is that he is always there for me. He takes me to golf, tennis, the park, gives me money and fixes my bike, thank you. What makes my real dad special is he will watch above me in heaven. My granddads are so special, they are also always there for me, give me money, take me out, thank you.
Chelsea, Cheshire, England
I got my dad some chocolates, he deserves them!
Alice, West Yorkshire, England
My dad is special because he is always is there for me and he is a very kind person.
Lily, Nuneaton, England
Golf is special to my granddad. We are going to have a meal this afternoon.
Jaden, West Yorkshire, England
My dad is cool because he plays cricket with me.
Nathaniel, London, England
My dad is my hero. After my mum died he has been there for me, he's taken on both mother and father roles and in my eyes that makes him very special. I hope he has a brilliant day today and loves his gifts!
Lindsay, Stirling, Scotland
My dad is special because he takes me to clubs after school, he cooks me lovely food and I love him loads.
Megan, West Midlands, England
My dad is very special and takes care of me. He also jumped out of a plane for charity and he means the world to me.
Ayesha, Milton Keynes, England
When my dad died he got his own award for being the best lecturer.
Milo, Brighton, England
My dad has survived a serious health condition and puts up with me having a go at him every 2 seconds.
Kayleigh, Merseyside, England