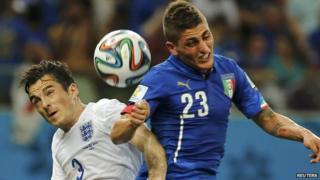 Reuters
England's World Cup campaign hasn't got off to a great start, with a 2-1 defeat against four-time World Cup champs Italy.
But England still have two more matches to play in their group, against Uruguay and Costa Rica.
What did you think of England's performance last night? Do you think the team has what it takes to pull through?
Can England still qualify for the next stage? How will they do in their next matches? Get typing and let us know!
Thank you for sending us your comments. This chat page is now closed.
Your Comments
ENGLAND CAN DO IT. No matter what, I think they can do it. They did play really well. What matters is that they played really well and at least scored 1 goal. England is going to play on Thursday so I will be waiting.
Sarah, London, England
We can do it because we have a really strong team this season and have good team players.
Shannon, Somerset, England
I think England are great especially their tactics.
Kareena, Coventry, England
I think England will go through and make it to the quarter finals and Brazil will win.
Talal, Manchester, England
England can do it. They can do anything when they put their mind to it!
Issy, Falmouth, England
Although Italy won, I though England played superb. So I think England will pull through.
Oskar, Brighton, England
I think England can still qualify to the next round. All they've got to do is keep trying. COME ON ENGLAND!
Ayesha, Peterborough, England
I have to say: it was an epic game. Both teams played very well. But one had more experience - Italy. I reckon England can still pull through though.
Abode, Scunthorpe, England
I think we can get through the groups because if Costa Rica can beat Uruguay so can we and I think we can beat Costa Rica.
Lucas, Bristol, England
I think losing this match is going to make them more determined to win the others so they might do well in their next matches.
Olivia, Northern Ireland
I think England will pull through and I know they will be determined to win the World Cup. England rules.
Maxy, Kent, England
England's skills are much better than Uruguay and Costa Rica so they still can win it. GO ENGLAND!
Manas, Cambridgeshire, England
I don't think that they will. I think they will come third in their group. I watched the match against Italy and towards the end they were poor. But we still do have Alex Oxlade-Chamberlain coming back for the game against Uruguay, so I cannot wait until that.
Christopher, London, England
Of course England can still do it! I know they can, come on England! If not, then I want Brazil to win.
Ava, Leeds, England
I just want to say England could not have played better last night. However it just was not their day but Sterling and Sturridge were my favourite, you could just see them with the ball trying every minute. Also I think we made the right choice to be up so late at night to watch it. Well Done England. I am with you all the way :)
Khadija, Middlesbrough, England
I think England can do it because we have got young fresh people and Rooney and Gerrard to keep them in line.
Lucy, Warwickshire, England