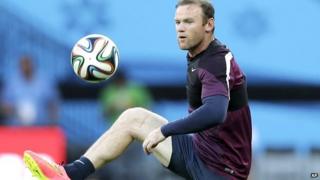 AP
England's footballers play their first match in the World Cup tonight, against Italy.
The game takes place in the Brazilian city of Manaus where the temperature will be around 32C.
What do you think will be the result? Will England win, and by how many goals? Who do you think will score?
Or do you predict Italy will take victory and give England a bad start at the World Cup? Do you agree with Ronaldo the Newsround parrot?
Thanks for your comments. This page is now closed.
Your comments
England will beat Italy because we have an amazing squad. GO ENGLAND.
Eddie, England
I think that England will win 3-1 because they have really good players and I am sure Steven Gerrard will shoot a goal!
Tom, Manchester, England
I will really want England to win but I doubt they will. But I'm cheering on my country! Go England!
Alicia, Leicestershire, England
I think Italy because they're better.
Gregg, Scotland
I think the score will be 3-2 to England.
Tomas, Ireland
Personally I am very patriotic but previously Italy has won the World Cup four times. So if England want to win, they need to play hard.
Amina, Bradford, England
I think England will win because they have great young players and great old players and they have lots of pace so the Italians won't catch them.
Kaif, London, England
Of course they will! They just have to believe in themselves. GO ENGLAND!
Aidan, London, England
I think Italy will win 3-1 or something like that.
Kitty, Hertfordshire, England
I think England is in with a chance of winning because lately Italy hasn't been playing its best.
Soofiah, Kent, England
I think it will be 4 -3 to England because they're a great team.
Sarah, Wales
I think England is going to win because the team has got the best players.
Fred, Derbyshire, England
You must ask your parent, teacher or guardian for permission before you send us a comment.
We may show your comment on this page or in our bulletins on the CBBC channel. We'll show your first name and which town you're from - but we won't use your details for anything else.