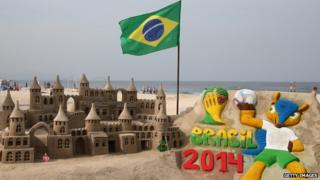 Getty Images
The World Cup in Brazil starts in a matter of hours and we want to know how you are gearing up for it. How excited you are?
The first match is Brazil v Croatia, England fans will have to wait until Saturday night to see their team play their first match of the tournament against Italy.
All together teams from 32 different countries will do battle to find the eventual victors who will lift the famous trophy.
So bring on the football fun!
We want to know:
How excited are you about the World Cup?
How are you and your friends gearing up for the tournament?
Comments page is now closed.
Your comments:
For the first England match, my family are having a BBQ at 11pm! That's when the first match starts, were putting the TV in the summer house to watch it.
Zia, Scunthorpe, England
I am really excited! I can't wait for the match tonight, I'm going to be watching with my dad!
Lucy, London, England
I am very excited about the World Cup. Come on England!
Oran, London, England
I cannot wait! I'm really excited to see J Lo, Pitbull and Shakira, when they perform the World Cup song!
Ava, Leeds, England
Very very very excited because I love football as I'm a bit of a tomboy.
Teegan, Corby, England
At school we've been getting excited, we've had to draw a country out of a hat and if they win we get a prize. I'm really excited to see which country I get, Brazil, come on.
Zoe, Aylesbury, England
I am very excited to watch the opening ceremony tonight.
Abigail, London, England
Today in school we wore the colours of the country we were supporting and in P.E we did football. Can't wait till the match starts.
Chloe, Leicester, England
I just can't wait any longer, the World Cup is just around the corner and we're ready to win.
Katie, Northern Ireland