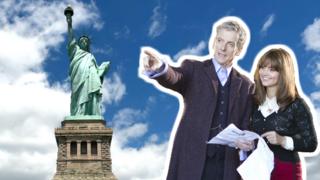 AFP
The BBC have announced a Doctor Who world tour to celebrate the new series of the sci-fi show.
The new Doctor, Peter Capaldi, will visit seven cities around the globe in August.
He will be joined by companion Jenna Coleman, and the show's boss Steven Moffat will attend some dates too.
The tour will visit Cardiff, London, Seoul (South Korea), Sydney (Australia), New York (US), Mexico City (Mexico) and Rio de Janeiro (Brazil).
Along the way the Doctor and his companion will attend fan events and shows.
Peter Capaldi said: "After eight months solid filming deep in the world of monsters, Jenna and I are thrilled to be heading for the Planet of Fans".
Doctor Who returns to BBC One in August.