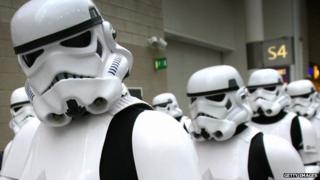 Getty Images
Another Star Wars film will be made in the UK in 2015.
Star Wars Episode VII is currently being recorded at Pinewood Studios near London.
The next instalment after that will also be made at Pinewood Studios.
Episode VII is the fifth Star Wars movie to be shot in the UK. It's due in cinemas on 18 December 2015.
The original trilogy was recorded at Elstree Studios in Hertfordshire.
Lucasfilm President, Kathleen Kennedy said: "The UK crew that we're working with on Star Wars: Episode VII is incredible. They're among the most gifted and passionate when it comes to film and storytelling. Star Wars couldn't be in better hands."