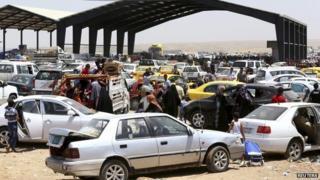 Thousands flee city of Mosul in Iraq
Up to 500,000 people have fled the city of Mosul in Iraq after an Islamic extremist group called ISIS took control of it.
The United States says the events show ISIS is a threat to the entire Middle East.
Iraq's army and police officers have left Mosul too.
It's reported that police stations have been set on fire and hundreds of prisoners have been set free.
The prime minister of Iraq, Nouri Maliki, has asked parliament to declare a state of emergency and grant him greater powers.
Watch more Newsround videos