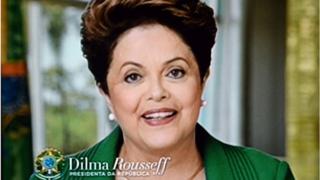 Brazil 'ready for World Cup'
The president of Brazil, Dilma Rousseff, says her country is ready for the World Cup.
She made a speech on television ahead of the start of the tournament on Thursday.
In the speech she rejected claims that too much money had been spent on the World Cup in Brazil and said the tournament would leave a lasting legacy for people in the country.
There have been lots of demonstrations in some of Brazil's biggest cities, with people protesting about money being spent on new football stadiums rather than things like houses and hospitals.
But President Rousseff also said she would not allow the demonstrations to disrupt the tournament.
Thousands of extra police and soldiers will be deployed to ensure the matches get under way smoothly.
Watch more Newsround videos