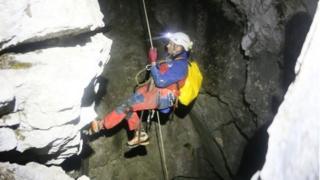 Man trapped in Germany's deepest cave
Rescue teams are attempting to free a man trapped 1,000 metres underground in Germany's deepest cave.
52-year-old Johann Westhauser was injured in a rock fall in the cave at the weekend.
The Riesending cave is so deep it took one of the man's companions 12 hours to return to the surface to raise the alarm.
Rescuers have managed to reach Mr Westhauser and say he is able to stand. They had previously feared he was partially paralysed.
Rescue officers hope to raise him to the surface over the next few days.
Watch more Newsround videos