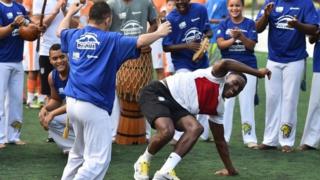 England squad dance Brazilian style
The England football team may be training hard in Rio, but they still found time for a bit of dancing on Monday.
After a training sessions some of the players demonstrated their capoeira skills.
Capoeira is a Brazilian martial art with elements of acrobatics and dance.
Daniel Sturridge had a go first before Danny Wellbeck also tried.
Watch more Newsround videos