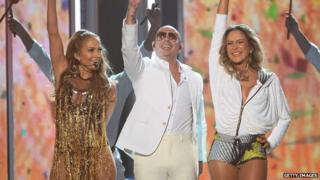 Getty Images
Pop singer Jennifer Lopez says she will perform at the World Cup opening ceremony in Brazil, despite claims she had pulled out.
Earlier this week Fifa said the singer would not perform the official tournament song on Thursday.
However J-Lo told the Associated Press on Tuesday that she was flying to Brazil.
She said: "People get nervous and I think it was a little bit premature to announce anything."
"We are definitely going," she confirmed.