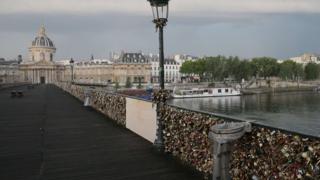 Bridge rail collapses under weight of 'lovelocks'
Part of a railing on a famous French bridge has collapsed under the weight of thousands of locks attached to it.
The Pont Des Arts footbridge in Paris is completely covered with so called 'lovelocks' but part of the railing fell away under the pressure of the growing number of locks attached to it.
Police were forced to hurry tourists off the bridge and close it down.
Every year, thousands of couples write their initials on locks and attach them to the side of the bridge.
Watch more Newsround videos