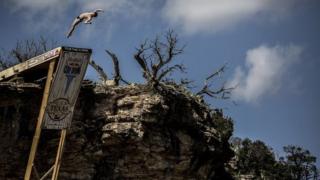 British diver wins Cliff Diving World Series
British diver Gary Hunt has won the Red Bull Cliff Diving World Series in America.
He dare-devil diver jumped off a board on the cliffside of Possum Kingdom Lake in Texas.
He got a new personal best as well as grabbing the gold medal with his amazing dive from 28 metres up.
The world series is an organised event and Gary is highly trained so please don't try this at home.
Watch more Newsround videos